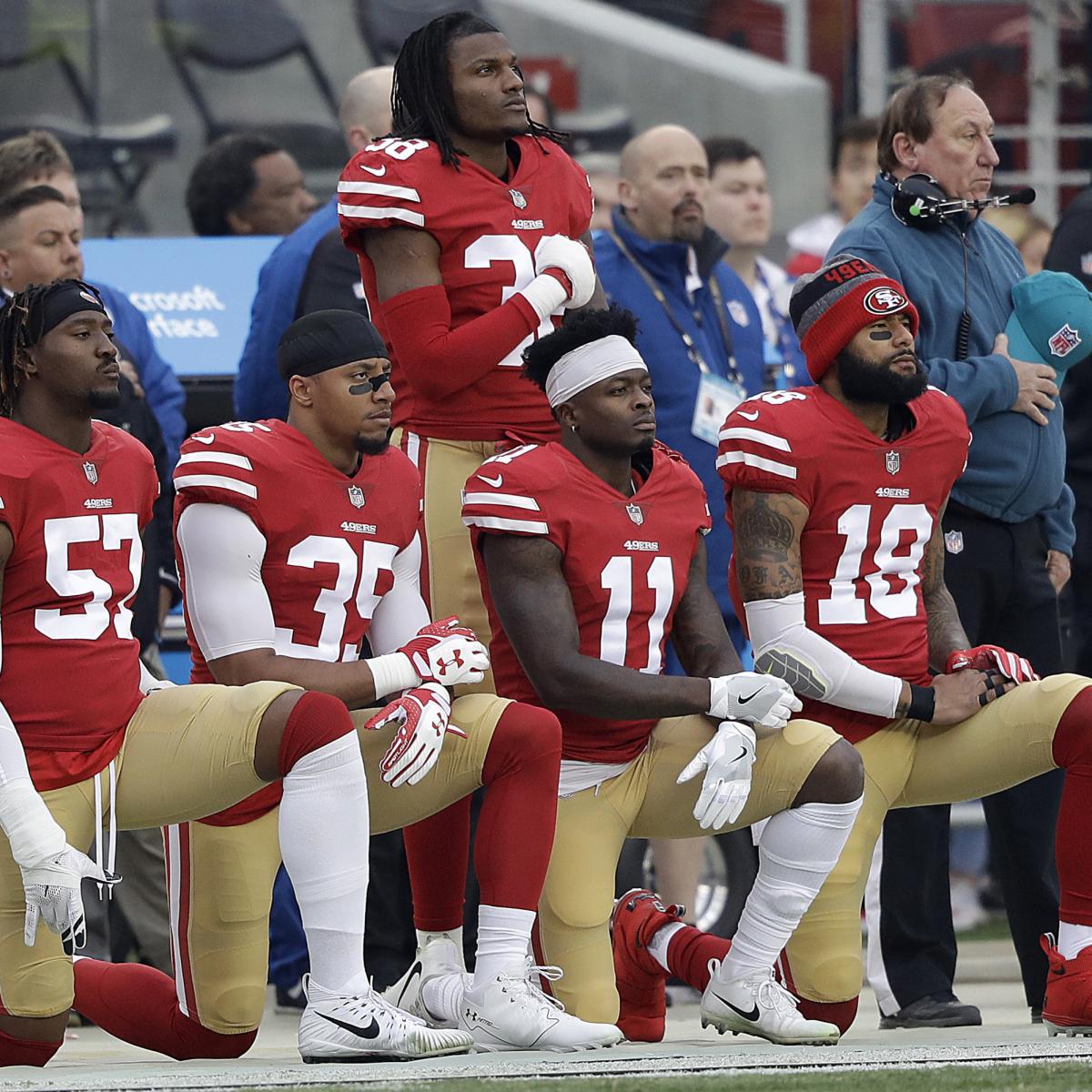 Marcio Jose Sanchez/Associated Press
The NFL is considering allowing teams to make their own decision whether to require players to stand for the national anthem, according to Mark Maske of the Washington Post.
Owners are expected to vote on a potential change at this month's upcoming meeting, including a possible league-wide policy that would require all players to stand. Other options include allowing players to remain in the locker room or keeping all players in the locker room until after the national anthem.
Leaving the current policy, which features zero restrictions on player action, is also an option.
"My guess is they will leave it up to the teams," a high-ranking official said of the expected changes.
Standing for the national anthem has been a point of contention for the past two seasons, beginning with former 49ers quarterback Colin Kaepernick in 2016. Other players have followed his lead, creating backlash from a wide variety of sources, including from President Donald Trump.
The owners held a meeting about possible fixes to the situation in October, with owners like Jerry Jones of the Cowboys and Bob McNair of the Texans openly against players protesting during the national anthem, per Seth Wickersham and Don Van Natta Jr. of ESPN.
On the other hand, owners like the Eagles' Jeffrey Lurie have specifically separated themselves from Trump's words, according to recordings obtained by Ken Belson and Michael D. Shear of the New York Times.

Giving owners a choice in the matter takes the pressure off the league office and NFL Commissioner Roger Goodell and places it at the feet of each team.
The question mark is how fans in each city will react to the decisions made by their favorite team on this divisive issue.
Source: CNN.com – RSS Channel – HP Hero